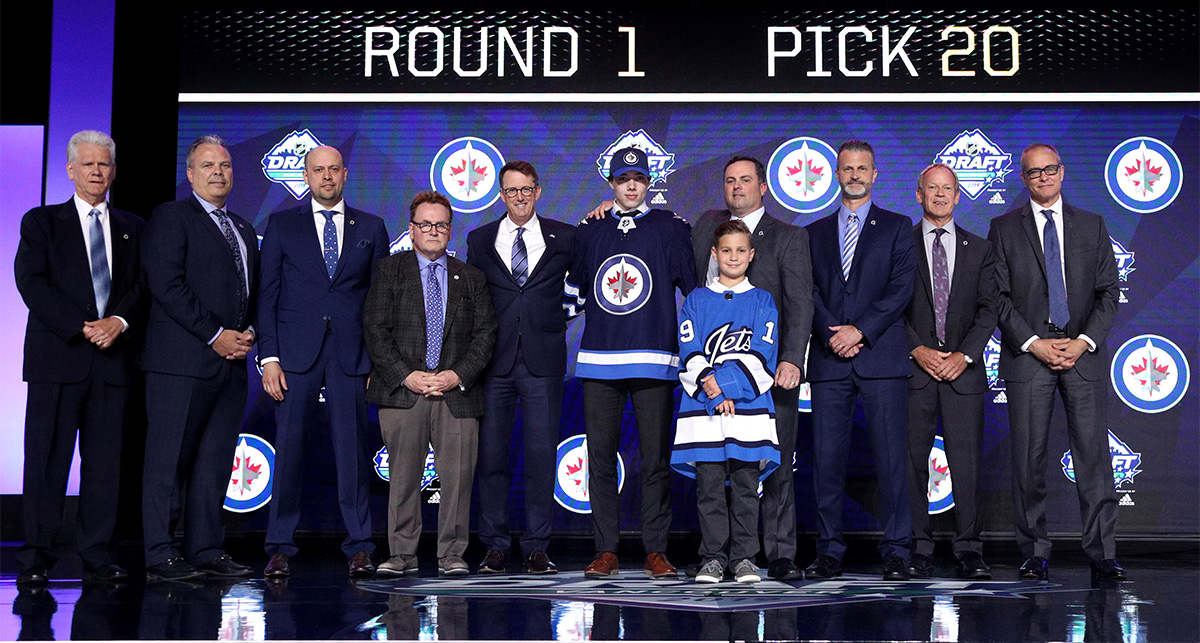 Ville Heinola
First Round - 20th Overall
Heinola, 18, tallied 14 points (2G, 12A) in 34 games with Lukko in Liiga last season. He also had nine points (1G, 8A) with Lukko's U20 team. Heinola was a member of Finland's gold medal-winning team in the 2019 World Junior Championship, netting two points (1G, 1A) in five games. He also played for Finland at the 2019 U18 World Championship where he had four points (1G, 3A) in five games.

Simon Lundmark
Second Round - 51st Overall
Lundmark, 18, had three assists in 29 games with Linkopings in the Swedish Hockey League. He also suited for the Linkopings U20 team and tallied 17 points (2G, 15A) in 25 games. He played for Sweden at the 2017 U-17 World Hockey Challenge and helped Sweden win the gold medal.

Henri Nikkanen
Fourth Round - 113th Overall
Nikkanen, 18, played in nine games with Jukurit in Liiga and scored two goals. The product of Mikkeli, Finland also had a goal in two games for Kettera in Mestis in Finland and had nine points (2G, 7A) in 14 games with Jukurit's U20 team. In 2017-18, Nikkanen tallied 38 points (20G, 18A) in 50 games with JYP's U20 team. He represented Finland at the 2017 U-17 World Hockey Challenge, netting five points (3G, 2A) in five games.

Harrison Blaisdell
Fifth Round - 134th Overall
Blaisdell, 18, has played the last two seasons for the Chilliwack Chiefs in the BCHL. Last season, he racked up 58 points (33G, 25A) in 51 games. He won the RBC Cup with Chilliwack during the 2017-18 season. He played for Canada White at the 2018 U17 World Hockey Challenge and Canada West at the past two World Junior A Challenge Tournaments, winning gold in 2018. He is committed to play at the University of North Dakota.

Logan Neaton
Fifth Round - 144th Overall
Neaton, 20, is coming off a standout season in which he led the Prince George Spruce Kings to the BCHL title. In 47 regular season games with the Spruce Kings, he went 32-8-5 with a 1.92 goals-against average and .914 save percentage. He was even better in the playoffs, going 16-1 with a 1.46 GAA and .940 SV%. He helped the Spruce Kings win the Doyle Cup against the AJHL champion Brooks Bandits and led Prince George to the final of the Canadian Junior A National Championship against host Brooks. He was selected to the BCHL's Second All-Star team last season. He is committed to play for UMass Lowell River Hawks.

2019 Draft
2018 Draft
2017 Draft
2016 Draft
2015 Draft
2014 Draft
2013 Draft
2012 Draft
2011 Draft
2010 Draft
2009 Draft
2008 Draft
2007 Draft
2006 Draft
2005 Draft
2004 Draft
2003 Draft
2002 Draft
2001 Draft
2000 Draft
1999 Draft
1999 Atlanta Thrashers Expansion Draft
June 25, 1999 - FleetCenter, Boston, Massachusetts
| | | |
| --- | --- | --- |
| Player | Position | Team |
| Jamie Pushor | Defence | Anaheim Ducks |
| Pete Ferraro | Right Wing | Boston Bruins |
| Darryl Shannon | Defence | Buffalo Sabres |
| Ed Ward | Right Wing | Calgary Flames |
| Trevor Kidd | Goaltender | Carolina Hurricanes |
| Sylvain Cloutier | Centre | Chicago Blackhawks |
| Tomi Kallio | Left Wing | Colorado Avalanche |
| Petr Buzek | Defence | Dallas Stars |
| Norm Maracle | Goaltender | Detroit Red Wings |
| Kelly Buchberger | Right Wing | Edmonton Oilers |
| Johan Garpenlov | Left Wing | Florida Panthers |
| Matt Johnson | Left Wing | Los Angeles Kings |
| Brett Clark | Defence | Montreal Canadiens |
| Kevin Dean | Defence | New Jersey Devils |
| David Harlock | Defence | New York Islanders |
| Chris Tamer | Defence | New York Rangers |
| Phil Crowe | Right Wing | Ottawa Senators |
| Jody Hull | Left Wing | Philadelphia Flyers |
| Mike Stapleton | Centre | Phoenix Coyotes |
| Maxim Galanov | Defence | Pittsburgh Penguins |
| Terry Yake | Centre | St. Louis Blues |
| Alexei Yegorov | Right Wing | San Jose Sharks |
| Corey Schwab | Goaltender | Tampa Bay Lightning |
| Yannick Tremblay | Defence | Toronto Maple Leafs |
| Steve Staios | Right Wing | Vancouver Canucks |
| Mark Tinordi | Defence | Washington Capitals |